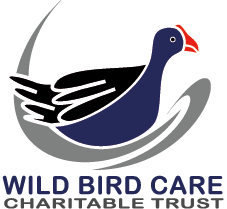 Helping care for New Zealand's native birds
Wild Bird Care Charitable Trust
Registered Charity CC40553
We're here to give practical and helpful information to assist in the rescue and short term care of birds. All orphaned, sick and injured creatures should be taken to a rescue centre as soon as possible so that the correct care can be given. Please note we are NOT a bird care centre.
As well as sharing information and providing a contact for our local community, we're also dedicated to setting up networks with other bird rescue centres, organisations and groups interested in assisting birds and wildlife.
THE TRUST
The Wild Bird Care Charitable Trust was registered in June 2009.
The Trust aims to assist groups, organisations and individuals endeavouring to promote activities designed to support New Zealand's birds and wildlife.
The Wild Bird Care Charitable Trust will work with other like minded organisations, groups and individuals to assist in the care of injured and orphaned birds through recognised treatments, rehabilitation techniques and the promotion of high standards of care.